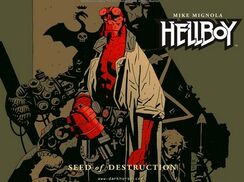 Hellboy is the brainchild of writer and artist Mike Mignola (Batman: The Doom That Came To Gotham, Batman: Gotham by Gaslight, B.P.R.D.) and is one of the strongest ongoing comics outside Marvel and DC. The self-titled hero, Hellboy, is a demon spawned by the evil Russian sorcerer Grigori Rasputin as the one who will start Armageddon. Hellboy was found by Allied forces and was adopted by Prof. Bruttenholm, the leader of the Bureau of Paranormal Research and Defense, or B.P.R.D.
Hellboy eventually became the public face of B.P.R.D. as he faces off against demons, occultists, and monsters around the world but as fate would have it his past resurfaces. As the issue unfolds, the full truth of Hellboy's existence is revealed as he became the pivot of the world's existence once again.
For first time Hellboy readers, the Hellboy universe is literally huge with almost every comic released having a direct continuity to the current storyline of both Hellboy and B.P.R.D. The storyline started at around the early 90s and is still going on strong until today.
Collections - These collections of Hellboy storylines are considered as in-canon.
Hellboy - The Seed of Destruction
Hellboy - Wake the Devil
Hellboy - Chained Coffin and Others
Stories: The Corpse, Iron Shoes, The Baba Yaga, A Christmas Underground, The Chained Coffin, The Wolves of St. August, and Almost Colossus.
Hellboy - The Right Hand of Doom
Stories: Pancakes (Top tier D'AWWW and LOL material), The Nature of the Beast, King Vold, Heads, Goodbye, Mister Tod, The Varcolac, The Right Hand of Doom, and Box Full of Evil
Hellboy - Conqueror Worm
Hellboy - Strange Places
Stories: Third Wish and The Island.
Hellboy - The Troll Witch and Others
Stories: The Penanggalan, The Hydra and the Lion, The Troll Witch, Dr. Carp's Experiment, The Ghoul, The Vampire of Prague, and Makoma
Hellboy - Darkness Calls
Hellboy - The Wild Hunt
Backup Stories: How Koschei Became Deathless and Baba Yaga's Feast.
One-Shots - Single issues portraying Hellboy's adventures outside of regular continuity
Hellboy - The Crooked Man
Hellboy - The Bride of Hell
Hellboy - Weird Tales vol. 1 & 2
Hellboy Jr.
Hellboy In Mexico
Hellboy Movies - Recognized by Mike Mignola himself and is considered as non-canon and is directed by Guillermo Del Toro of Blade II and Pan's Labyrinth fame.
Live Action

Hellboy
Hellboy II - The Golden Army
Hellboy III - (No working title yet)
Animated
Hellboy: Sword of Storms
Hellboy: Blood and Iron